Atomos AtomX Sync Module
887 lei
The AtomX SYNC Expansion Module for Ninja V from Atomos adds wireless timecode, sync, and Bluetooth control to the Ninja V monitor. You can sync and/or control 1000+ Ninja V units equipped with these modules on the same network at ranges up to 984′ in efficient multicam shoots.
Disponibil pentru precomandă
Trouble free multi-cam and dual system sound for Ninja V/Ninja V+
It connects multiple Ninja Vs/Ninja V+s, cameras and audio recorders using reliable long range RF wireless technology patented by Timecode Systems. At the same time it can also bring other devices into the synchronised system via Bluetooth. On iPhone and iPad this works with apps like Apogee's MetaRecorder audio recorder, Mavis Pro camera and MovieSlate8 logging . It is also compatible with professional audio recorders like the Zoom F6 and F8n.
Lose the wires, keep the Sync
Using Bluetooth Low Energy (BLE) to communicate with compatible devices
Range is approximately 10-15m (line of sight)
Pair up to 6 devices to each AtomX SYNC
Mavis Pro – iOS pro video camera app
Apogee MetaRecorder – iOS based pro audio recorder app
MovieSlate8 Pro – iOS advanced timecode slate and content logging app
Softron Movie Recorder – MacOS based video recorder app
UltraSync Blue Slate– free iOS timecode slate app
One server – many client devices
Operating within the 200m+ long-range RF network all AtomX SYNC units communicate directly with the server configured unit.
Continuous power for your Ninja V/Ninja V+
The AtomX SYNC module clips in-between the Ninja V/Ninja V+ and your battery using the AtomX expansion system. With a small battery inside it also acts as a hot swap continuous power battery extender, allowing you to keep your Ninja V/Ninja V+ running for approximately 5 minutes while you change the main battery.
Give your HDMI camera professional Sync
Use AtomX SYNC to bring your HDMI camera into a professional multi-camera production, then have all your footage instantly synchronized when you come to edit it – no more time wasted trying to align clips or running additional software. With the AtomX SYNC module you can guarantee your video and audio sources all match up perfectly every time.
The AtomRemote app for iOS and macOS provides external controls for Ninja V, and Ninja V+ with AtomX SYNC module. This app enables filmmakers to perform a range of configuration tasks and operations wirelessly up to 15 meters via Bluetooth LE. Input options include the ability to define how the device connects to the camera, select Gamma/EOTF and adjust Gamut settings. For monitoring, AtomRemote can be used to control playback, select monitoring modes, apply custom 3D LUTs and analysis tools including exposure and focus. Output controls provide options for 4K to HD and LUT preview and HDR output.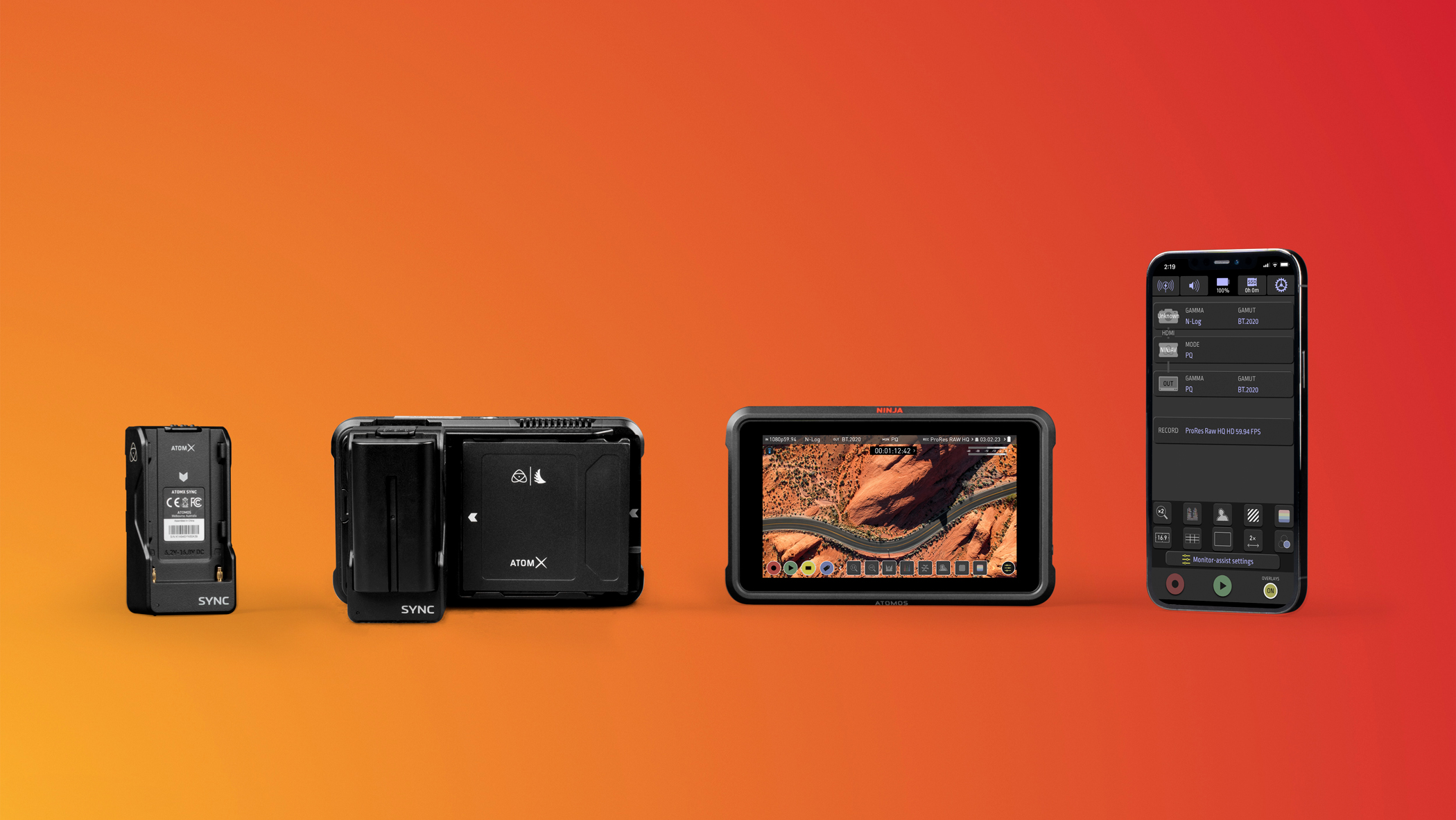 Robust network technology – proven in Hollywood
Using the same technology used on major motion pictures you can now connect multiple AtomX SYNC enabled Ninja V/Ninja V+ units to form a single network. Get frame accurate control of start/stop and timecode, all controlled from a 'server' configured Ninja V/Ninja V+. Each file recorded will not only be perfectly synced, they will all be exactly the same length too. In addition, each Ninja V/Ninja V+, whether in server or client mode, can also transmit accurate sync via Bluetooth to an additional six devices. The AtomX SYNC is also able to synchronise with any number of Timecode Systems sync devices, which allow connection to other cameras, sound mixers and sources.
Calibrated Analogue Audio delay
Specs
Range: 984′ / 300 m
Frequency: 1 GHz
Continuous Power: Built-in power extender provides 7 minutes of continuous power
Frame Rate: 60p, HD / 4K
Control: Master / Slave
In the box
Atomos AtomX SYNC
Limited 1-Year Warranty
Media
Produse similare
2.550

lei

Disponibil pentru precomandă

4.450

lei

Disponibil pentru precomandă

17.850

lei

Disponibil pentru precomandă