Atomos Shogun Studio II
23.330 lei
The Shogun Studio II Rackmount 4K Dual Recorder & Monitor from Atomos features two 7″ monitors with a high brightness of 3000 cd/m². It allows continuous 4K60 recording and monitoring on both channels, and it supports four 1080p60 SDI ISO recordings in a multicamera setup. The 3RU rackmount solution offers SDI and HDMI input/output with signal conversion, stereo XLR input/output per channel with 48V phantom power, and compatibility with ProRes RAW, ProRes, DNxHR, and Adobe CDNG codecs.
The flexible new Shogun Studio 2 takes state of the art Atomos multi-channel recording technology and combines it with two premium 7" HDR 3000nit* high bright touchscreen displays, all in a single 3RU unit. Its unique combination of features makes it perfect for live events, outside broadcast vehicles, production galleries and MCRs, post production facilities, video wall playout, on-set DITs and sports officiating. Connect to practically any SDI or HDMI source including camera channels, PTZ cameras and vision mixers.
Disponibil pentru precomandă
Record multiple formats
The Shogun Studio 2 records either two channels of 4Kp60, or up to eight HDp60 sources in industry standard Apple ProRes, ProRes RAW and AVID DNx codecs. Free your workflow from the constraints of highly compressed GOP based codecs and their associated artifacts. Replace them with clean images captured direct from the sensors of your camera channels using modern Intra-frame codecs.
Both ProRes and DNx are robust, easy to edit, color accurate production codecs used throughout the industry. You can even take this one step further and record ProRes RAW from a wide range of cinema cameras for maximum fidelity.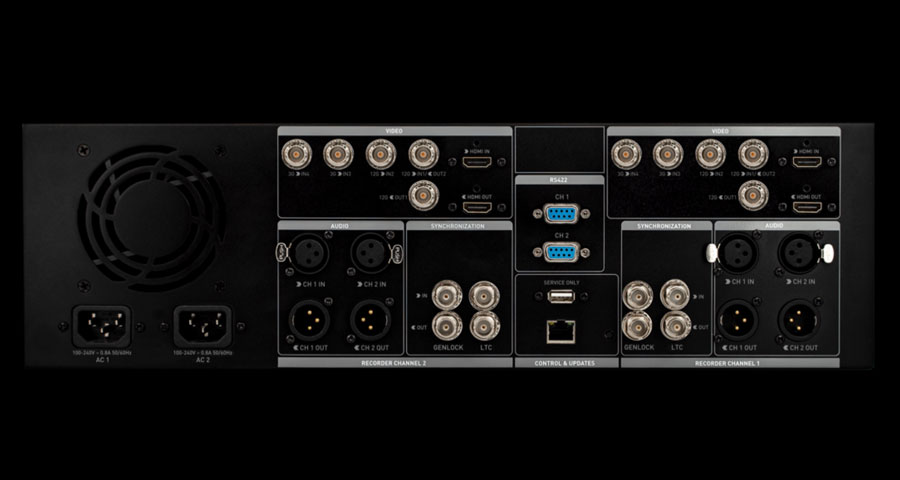 Playback and Edit
Review or play out your footage directly on the Shogun Studio 2 using the innovative touchscreen controls. Playback and play out up to 4Kp60 video, or 2K/HD high frame rate footage slowed down in the unit itself. Playlists can be created from clips either recorded on an Atomos recorder, or from your edit system in a supported codec, resolution and frame rate.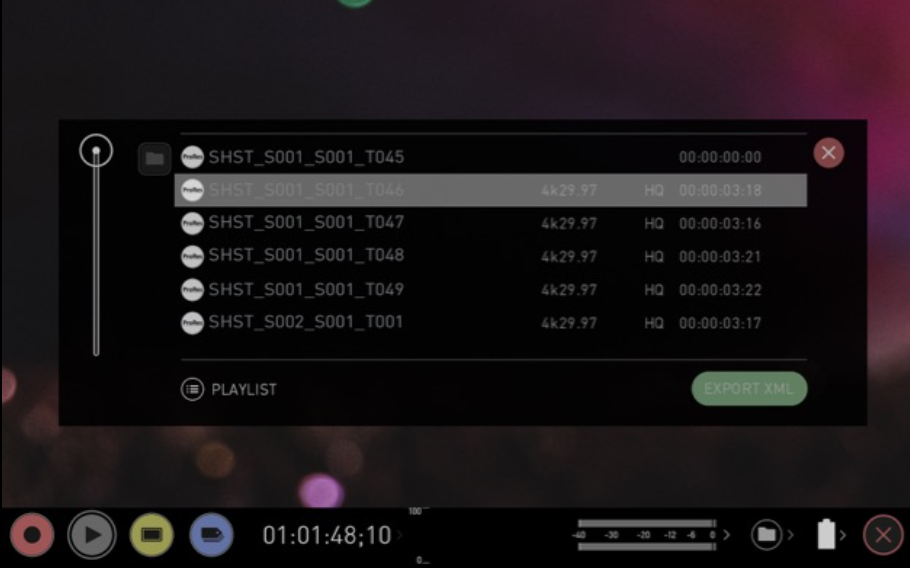 Master your rack with Shogun Studio 2
The Shogun Studio 2 only takes 3RU of space and has a short rack depth making it perfect for use in monitor bridges or in small mobile broadcast vehicles. Redundant dual power supplies balance the power load. The rear of the Shogun Studio 2 provides grouped connectivity for each of the recorder channels with 12G, 6G, 3G (single, Dual, Quad) and 1.5B SDI I/O, HDMI with support for both the inputs and outputs, plus XLR audio I/O, Genlock and LTC input and loop through.
Advanced record modes
The Shogun Studio 2 offers Pre Roll recording with a 8 second cache in HD, or 2-3 seconds in 4K, to make sure you never miss the action. It also offers Multi Camera ISO recording and Switching of up to 8 SDI inputs from cameras at up to 1080 p60. Each bank of 4 inputs also benefits from a switched output allowing you to have two video switched.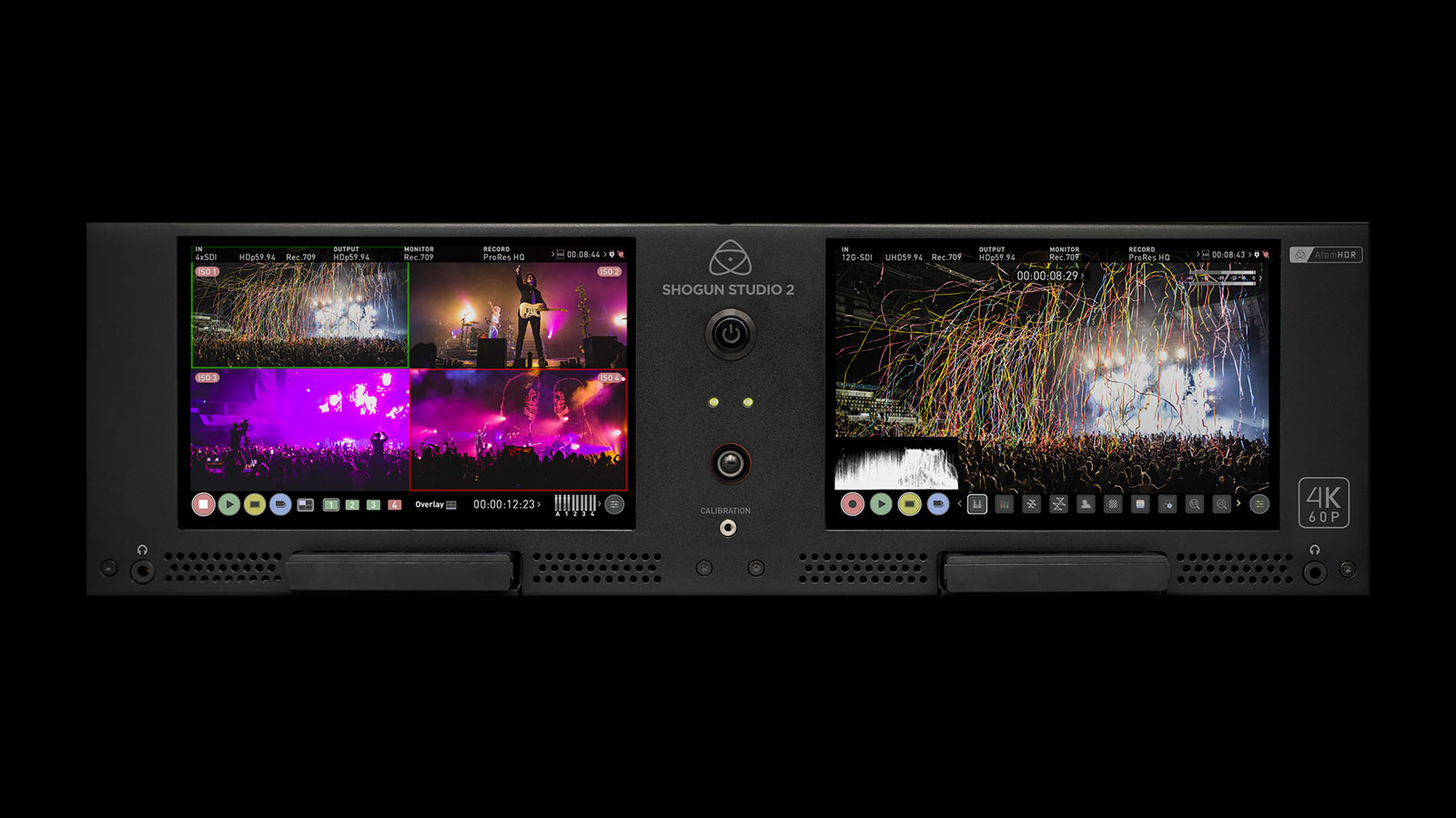 ProRes RAW is now firmly established as the new standard for RAW video capture, with an ever growing number of supported HDMI and SDI cameras. ProRes RAW combines the visual and workflow benefits of RAW video with the incredible real-time performance of ProRes.
The format gives filmmakers enormous latitude when adjusting the look of their images and extending brightness and shadow detail, making it ideal for HDR workflows. Both ProRes RAW, and the higher bandwidth, less compressed ProRes RAW HQ are supported.
Manageable file sizes speed up and simplify file transfer, media management, and archiving. ProRes RAW is fully supported in Final Cut Pro, Adobe Premiere Pro, Avid Media Composer 2020.10 update, along with a collection of other apps including ASSIMILATE SCRATCH, Colorfront, FilmLight Baselight and Grass Valley Edius.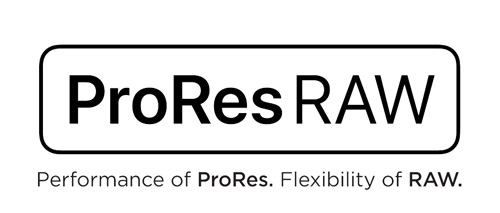 Class leading screen technology
The dual 7" screens of the Shogun Studio 2 have advanced dynamic zoned backlighting for deeper blacks and brighter whites, while retaining every detail in the highlights. See what the camera channel is capturing with unparalleled precision and use the advanced HDR tools for Log or RAW to ensure perfect exposure, colour and white balance.
Specs
Display
Touchscreen: SuperAtom IPS panel (capacitive touch)
Size: Dual 7.2"
Resolution: Dual 1920 x 1200
PPI: 327 per screen
Bit depth: 10-Bit (8+2 FRC)
Backlight Type: Dynamic zoned back light 3″, Dynamic Full Array Local Dimming (FALD) 360 Zones
Brightness (cdm2 / nits): 1500 / 3000 Peak HDR brightness
Aspect ratio: 16 : 9
Color Gamut: Rec.709
Calibration support: Atomos Calibrator with Xrite i1 Display Pro / Plus (Retail)
Color Pipeline
Gamma: Sony SLog / SLog2 / SLog3, Canon CLog / CLog2 / Clog3, Arri Log CEI160 / LogCEI200 / LogCEI250 / LogCEI320 / LogCEI400 / LogCEI500 / LogCEI640 / LogCEI800 / LogCEI1000 / LogCEI1280 / LogCEI1600, Panasonic Vlog, JVC JLog1, Red LogFilm / Log3G10 / Log3G12, FujiFilm Flog, PQ (HDR10), HLG, Nikon N-Log
Gamut: Bt2020, DCI P3, PDCI p3 65, Sony SGamut / SGamut3 / SGamut3.cine / Canon Cinema / DCI P3 / DCI P3+ / BT2020, Panasonic V Gamut, Arri Alexa Wide Gamut, Rec709, JVC LS300, Red DragonColor / DragonColor2 / RedColor2 / RedColor3 / RedColor4 / RedWideGamut
3D LUT Display: .Cube Format Display Only
3D LUT Output: Loop out
3DLUT 50/50: Yes
Monitoring Modes: Native / HLG / PQ / 3D LUT
HDR output Conversion: Log / HDR to HLG / PQ / Dolby Vision
Video Input
HDMI: 1 x HDMI (2.0) 4k p60
SDI: Quad link 3G SDI, with 2 x 12G SDI Backwards compatible Auto detection per recorder channel
SDI RAW: Apples ProRes RAW up to 6k
RJ45 / Network: Service Only
Bit Depth: 8/10-Bit Video / RAW up to 16-Bit
Video Chroma Subsampling: 4:02:02
HDCP copy protection: No supported
Metadata
HDMI: RAW – white balance, Exposure index, Shutter speed/angle, Iris F stop, ISO, Gamma, gamut
SDI: File Name from Arri, RED
Video Output
HDMI: 1 x HDMI (2.0) 4k p60
SDI loop out: 1 x 2 x 12G SDI Backwards compatible Auto detection
SDI Play out: 2 x2 x 12G SDI Backwards compatible Autodetection level A and B selectable
Video Chroma Subsampling: 422
Bit Depth: 10-Bit Video
Web Streaming
USB UVC: Optional via Connect 4k
Video Signal Conversion
HDMI to SDI: Yes – Video and RAW
SDI to HDMI: Yes – Video and RAW
Audio In/Out
Audio Quality: 24/48kHz
Audio Codec: PCM
HDMI: 8ch 24-Bit, input dependent
SDI: 12ch 24-Bit, input dependent
Analogue Audio in: 2 x XLR Per recorder channel
Analogue Audio Out: 2 x XLR Per recorder channel
Headphone out: 3.5mm 2ch.
Timecode / Sync
Embedded HDMI and SDI
Time of day: Yes, Time and Date
LTC: LTC via BNC in/out Record mode
Genlock: GenLock in/out Playback mode
Resolution and Frame Rates (Record, Monitor & Playback)
6k: RAW Only up to 30p via SDI Only
4k DCI: 23.98/24/25/29.9/30/50/59.94/60p
4k UHD: 23.98/24/25/29.9/30/50/59.94/60p
2K DCI 2046 x 1080: 2k DCI: 23.98/24/25/29.9/30/50/59.94/60p / Sony FX9 RAW up to 180p
FHD 1920 x 1080 Progressive: 23.98/24/25/29.9/30/50/59.94/60/100/120p
FHD 1920 x 1080 PsF: Converted to P and looped out PsF
FHD 1920 x 1080 Interlaced: 23.98/24/25/29.9/30/50/59.94/60i
1280 x 720p: 50/59.94/60p
Recording CODEC
CDNG: For SDI RAW inputs Only
Apple ProRes RAW: ProRes RAW, HQ
Apple ProRes: LT, 422, 422HQ
Avid DNxHD: DNxHD 220x,220,145,36
Avid DNxHR: LB, SQ, HQ, HQX.
Playback
Playlist: Yes, Create customer play lists from full or sub clips
Loop: Yes, with user customisable in / out markers
Apple ProRes: Raw Yes, recorded clips
Apple ProRes: Yes, with Linear PCM audio
Avid DNx: Yes, with Linear PCM audio
Recording functions
Pre-roll record: Yes (HD 8s, 4K 2s) – Not available in RAW
ISO Record: Up to 8 x up to 1080p 60 (3G SDI Level A ONLY) 4 Per recorder channel
Switched Program Record: Yes Up to 1080p 60
Multi Input / Switching
SDI A/B toggle: Yes, Up support up to 12G SDI per input
Dual Input display: Via Multi ISO input mode
Multiple SDI input: Up to 4 x up to 1080p 60 (3G SDI Level A ONLY)
Input transitions: Auto or manual XML transition
Supported media
Master Caddy I: Not compatible
SSDmini: Yes, BUT ONLY with optional Grab handle
File Naming: Unit Name – Scene/Shot/Take, Arri & RED via SDI
File System: ExFAT
On screen tools
Waveform: Yes, 3 size / Position
RGB parade: Yes, 3 size / Position
Vector scope: Yes, 2 size / Position
1 x Zoom: Yes. 1:1 Pixel mapping for 4k
2 x Zoom: Yes
Focus peaking: Colour selected / threshold setting / colour / mono / edges only
False colour: Yes, with Scale
Zebra: Yes, Adjustable
Isolate color channel: Blue Only
Cine Frame Guides: 2.4:1, 2.35:1, 1.9:1, 1.85:1, 4:3
Social Frame guides: 9:16, 1:1, 191:1, 4:5
Safe areas: Action and Graphic
Grid markers: 9 grid
Anamorphic desqueeze: 1.25x 1.33x , 1.5x ,1.8x ,2x
Display Flip: Vertical Only
Onboard Signal Processing
Pulldown Removal: 24/25/30pSF > 24/25/30p (2:2 pulldown), 60i > 24p (3:2 pulldown)
4K UHD Downscale for HD: Loop out – 4K UHD to FHD
DCI Crop: Loop out – 17:9 to 16:9 Crop
Remote control
HDMI: Auto HDMI Trigger, Supported Protocols – Canon, Sony, Atomos Open Standard
SDI: SDI trigger camera selectable
Serial 2.5mm Jack: LANC control and calibration via optional USB to serial cable
RJ45: Service Only
RS422: Yes, Qualified controllers only
Supported Applications
XML: Cut tag EDL and Multcam with transitions in FCPX XML
Apple ProRes RAW: Apple FCPX, Adobe Premier, After Effects, Avid Media Edius, Assimilate Scratch, Baselight Film Light.
Video Codecs: All applications with support for Apple ProRes and Avid DNX in .MOV wrapper
Physical Specifications
Dimensions (W x H x D mm): 447 x 152 x 280mm, 17.6 x 6.0 x 11.0"(without rack ears), 490 x 152 x 280mm, 19.3 x 6.0 x 11.0" (with rack ears)
Weight: 5.0kg / 11lb
Rack height: 3U
Mount points: Removable rack ears and desktop feet
Dual recorder: Dual Screen, Recorder and switcher
Environmental
Ambient operating temperature: Up to 40°C
Construction and Control
Body: Aluminium alloy chassis
Cooling: Actively controlled fans and Heat Sink
Tally light: On front
Multi-function button: Trigger dual record
Power
Continuous power: Dual PSU
DC in connector: Dual IEC C14
In the box
Shogun Studio 2
2 x rack ears with screws
4 x rubber feet with screws
2 x IEC power cable
2 x HDMI cable
5 x Master caddy II
Produse similare
4.450

lei

Disponibil pentru precomandă